Use the links in this part of our website to ensure you are aware of scams that are currently circulating. Checking once a month is simple, but might just save you from $'000 of losses to criminal scammers.
Criminals use clever schemes to defraud millions of people every year. They often combine sophisticated technology with age-old tricks to get people to send money or give out personal information. They add new twists to old schemes and pressure people to make important decisions on the spot. One thing that never changes: they follow the headlines — and the money.
We have a link to SAPOL and receive information about emerging scams as they evolve and this information will be added to our website as soon as it's available.
Stay a step ahead with the latest info and practical tips about the latest areas of scam activity on this website. Do yourself a favour. Use our site to check for new scams and protect yourself.
Western Union
The ACCC (Australian Competition & Consumer Commission) have issued a notice via the Scamwatch website urging any Australian who has lost money to a scammer through Western Union from 2004 to 2017 to take action to try to get their lost funds back. 
Western Union has agreed to pay a penalty of US$586 million to the United States' Department of Justice (DOJ) after admitting to aiding and abetting wire fraud. The DOJ is using this penalty to provide refunds to eligible people worldwide who were tricked into paying scammers via Western Union. 
The deadline for applications is 31st May 2018.
Woolworths warns of gift card scam emails.
WOOLWORTHS has warned its customers to be on
the lookout for this dodgy email going out to customers.
Click here for more info from Scamwatch.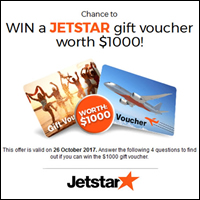 Jetstar
If you receive an offer like this  purported to come from Jetstar telling you of a chance to win a voucher for money or flights, it is a scam.